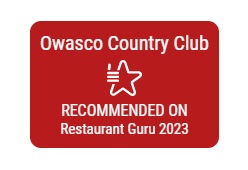 Owasco Country Club is proud to offer an exceptional dining experience to all members and their guests April – October each season!
Please check back often to see our current menu, yet to be released for 2023, and check back as our menu changes occasionally. We also have daily and weekly food and drink specials.
We offer catering for special events and weddings with seating for up to 150 in our ballroom, up to 45 in our Hagen Room, and up to 300 under a tent outside on our beautiful grounds overlooking Owasco Lake.
---